About Us
The Team have been around since 1982; their reputation for consistently outstanding live performance is the foundation of their success; their intimate relationship with soul music has had legendary artists perform with them; and their audience is drawn from so wide a spectrum of people as to make the demographic indefinable.
Put together by percussionist Clive 'J.J.' Hare and bassman Kevin Kendall, the band approached 'Build Me Up Buttercup' vocalist Clem Curtis with a view to working together. Clem at that time did not need a band but he had a friend who did: The late, great motown artist Edwin Starr whose hits include 'War - What is it good for', 'S.O.S', 'Eye to Eye Contact' and 'H.A.P.P.Y Radio'.
Since then The Team has been on the road and there are few others with such extensive performing experience. Whether for a throng of forty thousand at the now legendary V Festival in Chelmsford's Bowl or for just twenty-three guests in the dining room of a media and premiership football tycoon; whether at 8 a.m. in a field near Aachen full of scooterists or at midnight in an opulent London hotel for the royal family; whether in session for Capital Radio or on The Jonathan Ross Show, the mantra is the same: 'we came here to party!' for whoever,whenever, wherever!
If you have not yet seen for yourself, the certainty is, you will know someone who has. Possibly even on one of those exhilarating occasions when The Team has been joined onstage by, for example, The Temptations, Ben E. King, Barry White or Boy George to name a few.
Together with Edwin they have been presented with awards by Blues and Soul Magazine, whose readership for two consecutive years voted them 'UK Live Act Of The Year'; and alongside James Brown and Billy Paul have twice been honoured at the prestigious European Diamond Awards for Live Music.
With Edwin's passing in April 2003, younger brother Angelo, an original member of The Team whose credits include Alexander O'Neal and more recently Lemar, has taken over on lead vocals. Accordingly, there is a sense of continuity but more notably, a new energy; an energy that could only be generated by dedicated and well-travelled musicians and singers, performing for years with soul greats - and soaking up the influence.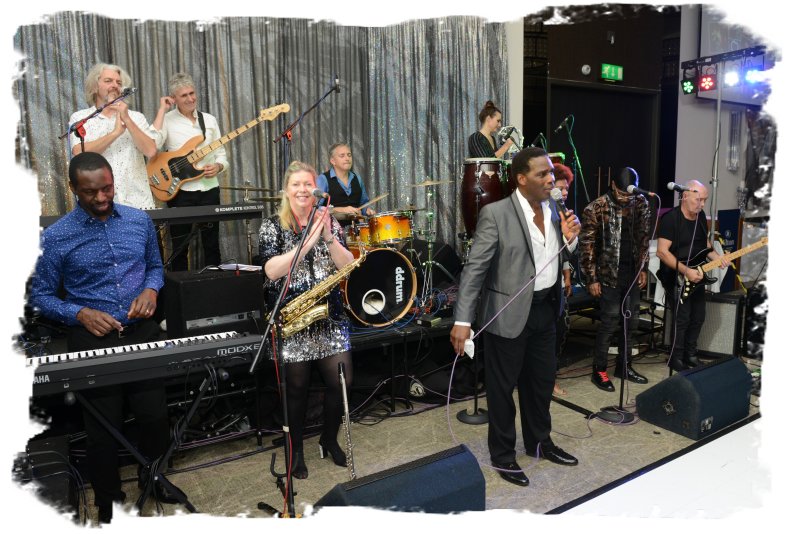 Penny Black review of Edwin's Tribute concert at the Jazz Cafe
Please follow the links and find out more about us. ------------ Read Sharon Davis' review of a Team show in Blues & Soul and also the Blues & Soul review of the Team's album Keeping The Faith.